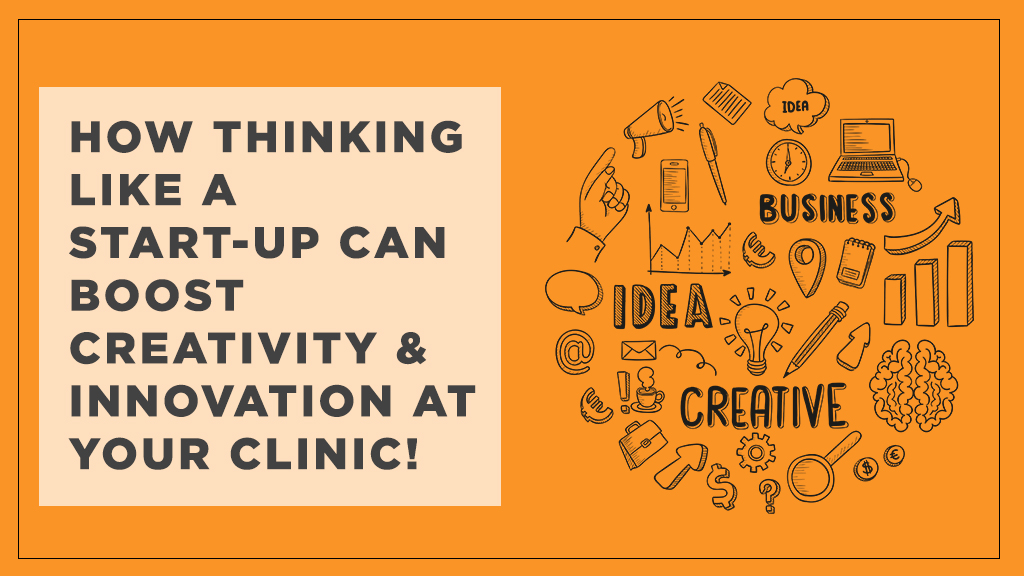 Introduction
We live in the golden age of innovation and disruption, don't we?
That's how you got started in this field, right?
You disrupted and made a place for yourself in the domain of dermatology?
Your innovative ways of treating patients and your creative ways of handling and building a team have led to this success!
However, some dermatologists stop thinking innovatively after reaching a certain level of success because they start becoming cautious and repetitive in their thinking.
When you reach the apex of success, stakes are so high that you may not be comfortable in innovating and disrupting your own practices. So you keep maintaining status quo rather than challenging it.
Want to go back to the thrill of creative and innovative disruptions???
The best way to revert to the exciting way of working is to start thinking like a start-up! Not just you but your staff should also cultivate this sort of thinking to boost creativity and innovation at your clinic.
Wondering how to do it?
No probs.
Here's your roadmap of how to think like a start-up to drive creativity and innovation at your clinic:
Make room for mistakes
This is quite opposite to the status quo wherein you cannot afford to make mistakes!
Making mistakes is considered to be a cardinal sin in organizations which have settled down.
However, start-ups are not afraid of making mistakes.
Do you see the correlation between making mistakes and innovation?
No?
Here's how you should consider it:
§Organizations which have settled down follow a particular way of working. Anybody who deviates from it invites criticism. Nobody likes it and the concerned employee suffers. Moreover, if it does not yield desired results, the experiment that the concerned employee tried is dubbed as a failure. This demoralizes the employee and he/she resolves never to try anything new!
§On the other hand, start-ups have no such pressure to ensure that no one commits mistakes. There is no stigma attached to mistakes. The boss or the colleagues don't keep reminding the concerned employee about a mistake time and again. All in all, it's a great place to try out new ways of working, explore the out-of-the-box ideas and innovate to the point of disrupting the established norms.
§Employee motivation is quite important because they will not act upon anything unless they are sufficiently motivated. They need constant inputs regarding motivation and engagement. You can enroll them in Teamspire to encourage them to make them more motivated and engaged.
§As you are aware, conventional culture does not allow mistakes so employees will stop thinking innovatively because of fear of failure and stigma attached to mistakes. But if you create a culture like that of a start-up wherein mistakes are not a matter of shame and embarrassment, your employees will express their creativity and try innovative ways of working.
§This needs to be articulated and conveyed clearly to your employees. They should know that if they try to do something unconventional or out-of-the-box, it may or may not work but they must keep trying to do something unconventional.
§For instance, if all your employees try something innovative, some of the things will not work but what if some of the things work??? What if you stumble upon some innovative ways of patient satisfaction, social media marketing or employee engagement that can transform your clinic?
§If you want your employees to implement out-of-the-box ideas, you must create space for making mistakes. Once you create such space, you will see a marked change in the confidence of your employees and how they will come up with new ideas and take charge of the situation rather than wait for orders.
§If you are not making mistakes, trust me, you are not making anything significant! Let this be the motto of your clinic and the crux of your clinic's philosophy!
Create Open Workspace Culture
Open workspace culture, you might ask?
Most employers don't like anything open-ended but this is different.
Start-ups don't suffer from hierarchy and the burden of organizational chart; anyone can propose any idea and each idea is equally worth trying. It does not matter who is proposing the idea.
Want to leverage such a pool of ideas at your clinic?
Here's how you can go about it:
§Do you have any space in your clinic where employees can freely get together and discuss, brainstorm or engage in any sort of problem-solving? Not likely. Most clinics don't entertain employees getting into aimless chatter and unproductive discussions. But start-ups don't worry about employees getting together and discussing something. In fact, they encourage such a practice!
§Google cafes have been known for such brainstorming and problem solving by employees. Why can't you think of something like this? Can you put in place a dedicated space for problem-solving and brainstorming regarding how the functioning of the clinic can be improved? This will break down the hierarchy and create open workspace culture wherein ideas can be exchanged across designations and titles without worrying much about the same!
§A start-up welcomes new ideas and open communication. Any employee can walk into the CEO's chamber and share his/her feedback and new ideas. How about introducing this at your clinic? What if you could also practice such open workspace culture leading to better communication and greater understanding between you and your employees? Don't you think this can boost the efficacy of the way your clinic functions?
§Start-ups are not rigid in their ways of thinking and working. They don't work in any one particular way because they have not yet settled down and become complacent. So they appreciate any new idea that comes from anyone irrespective of designation and title. If you want your employees to be more productive and contribute to the team, you should also find ways to practice open workspace culture defined by communication, transparency and open-minded acceptance of new ideas.
§When employees see that the clinic's culture welcomes their ideas and involvement, they will begin to contribute more. They will start thinking about creative ways of carrying out their duties. They will not be affected by hierarchy and designation and stand by a good idea and openly give feedback about a poor idea. In all, they will be motivated and engaged!
Employee Recognition and Rewards
Since start-ups are hungry for new ideas and innovations, they don't hesitate in recognizing and appreciating the same. In other words, they openly give recognition to new ideas and employees who give such ideas.
Unfortunately, as organizations grow, they tend to think that the organization is bigger than its employees and it will be successful whether employees creatively contribute or don't. So the practice of jumping up from one's chair when one hears a great idea dies down gradually and it is replaced by indifference or lack of open appreciation.
Want to transform how you go about it?
Follow what a start-up does:
§A start-up does not want to pay for a daily, routine job of 9 to 5. It pays for innovation, creativity, and out-of-the-box thinking. Since it pays and rewards such attributes, it gives rise to an outburst of new ideas.
§What if you can also think like a start-up and start openly rewarding new ideas and innovations? What if you set up a way of appreciating and recognizing innovation of any sort at your clinic? Do you have a way of registering when innovation happens at your clinic?
§You can start with employee recognition program and work out different ways of recognizing the innovations and contribution of employees. You can set up a Wall of Fame where you recognize the outstanding work done in the past week or month in the form of Employee of the Week or Month.
§You can put up a screen where you will constantly display the picture and work of an employee who has done amazing work in the past week. You can write a hand-written note for each best-performing employee of the month and reinforce the practice of such employees.
§Like a start-up, don't hesitate in giving promotion and incentives to the most creative and innovative employees. Your system of increments and appraisal should also be aligned to this. It should not matter whether the employee has the experience or a particular qualification or not. It should all be based on merit.
§What employee recognition and rewards will do is that your employees will have absolute clarity about what you value and what you expect from them. They will have their mandate quite clear. They will be happy and motivated because their work will be recognized. Once they are motivated, they will go the extra mile to get things done.
§Like a start-up, you need to believe in the power of a great idea and not worry about the number of hours an employee puts in and the number of years of experience or a particular designation an employee has. Without hesitation, you should appreciate, recognize and reward great ideas and innovations. This will result in increased productivity and innovation.
Summing Up
Start-ups amaze us with their phenomenal and quick progress because they don't get weighed down by hierarchy, designation, title, job description, departmental boundaries that an average organization typically suffers from.
If you want your employees to overcome such mental blocks, all you need to do is start treating your clinic like a star-up. Inculcate the culture in your clinic that a start-up does. Motivate and recognize your employees like a start-up does.
As a result, your employees will be highly pro-active and committed, like the purpose-driven team of a start-up. As a result, your employees will be deeply engaged, like the employees of a start-up. When your employees will be motivated and engaged like the employees of a start-up, they will be also hugely creative and innovative like the dedicated team of a start-up!
Parting Thoughts
Did you like the article?
Did you find it relevant and useful? Keep sharing your valuable feedback and comments!
Do you practice any of these ideas mentioned in this article? Are there any of your innovations that you would like to share with us? Do send in your case studies!
Do you have any suggestions regarding topics? Do send them across! We will be happy to explore the topics and write articles on the same!
Don't you think your friends and colleagues will benefit from this article?
Do share it on your social media account!