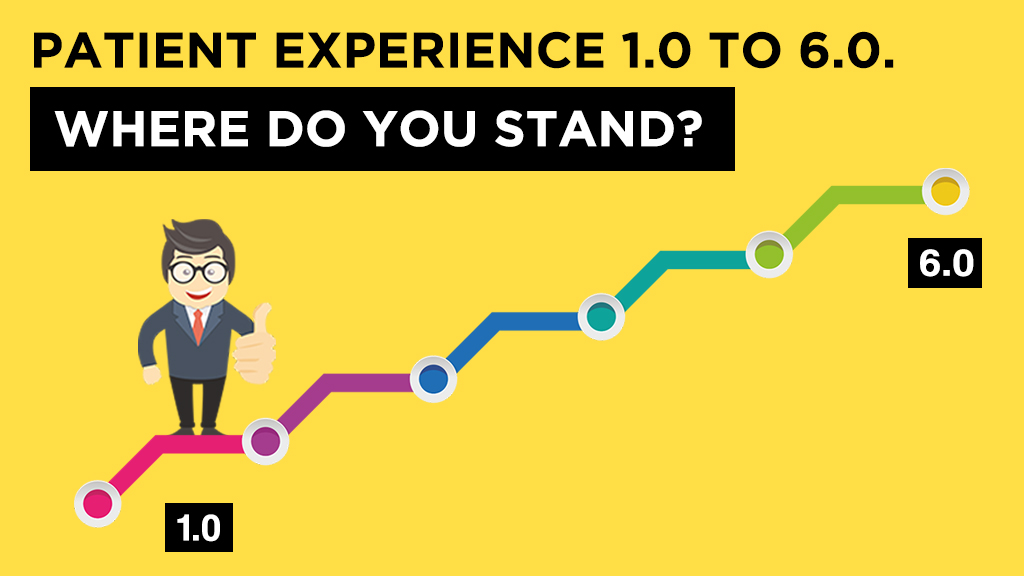 Guess what patients remember in the long run?

It's simple; not just the treatment but the overall 'experience'!
It's obvious that different clinics provide different sorts of patient experience. There are a number of reasons for the same.
However, first of all, you got to learn about different levels so that you can do something about it.
How about identifying 6 levels of patient experience? What if you could get the definition of these 6 levels with examples?
Wonderful, won't it be?
Yes, of course. It will help you discover where you stand and what the next level is that you can aim for.
Here're the 6 levels of patient experience and what you can do about it:
Patient Experience 1.0: WAIT FOR PROBLEMS
Most people tend to remain passive and only respond or react to a situation rather than anticipate it.
This means if you are on this level, you would not take initiative or anticipate anything. You would not plan well in advance to avoid any problems. You would not be able to foresee the complications that might arise and you would not know how to deal with them.
Hence, at this level, you basically passively wait for problems to arise. Waiting is an inherently passive course of action. Since right now there are no problems, you tend to assume that there are actually no problems. So nothing to worry about.
However, you are waiting for something to go wrong. When it goes wrong, you react to the problem. How will you come to know that something has gone wrong? Only when the patient complains, you will come to know that nobody is answering the phone in your clinic or that the patient has not received any SMS or intimation regarding the new treatment that you have started.
When patients complain, you will quickly swing into action. You will probably call the concerned employee responsible problem and dish out some sort of punishment. You will also try and fix the problem.
Complaints don't augur well for your practice. Fixing the problems afterward may not yield any results. The whole thing is a costly affair and leaves a bad taste in the mouth for everyone involved!
Patient Experience 2.0: FIX THE PROBLEMS
Well, this is slightly better than waiting for problems. You are not waiting for problems but fixing them.
More importantly, waiting is a passive course of action whereas fixing the problems is a comparatively more active course of action. However, it is not as yet a pro-active course of action.
You somehow discover the glitches and find ways to fix them. To use the same example used in experience 1.0, you are able to notice that the front office staff don't regularly answer the phone. So you change the staff or provide them training and thus, fix the problem.
As mentioned earlier, patients are not aware of the new treatments that you have launched. So you give more thrust on communication, marketing, and promotion of your clinic. You take corrective action and fix the problem.
In all, you are taking action as problems arise. You fix the problems and offer apologies. You tend to think that if you fix the problems and offer apologies, patients will forget everything and remain loyal to you. If you think you have not satisfied the patients by merely fixing the problem, you would probably offer some discounts and win them over again! You vow to take care of it next time.
Basically, you are still fixing the problems as they arise; it's not systematic nor is it an outcome of a great policy or mechanism. It's just instinctive reaction to the problems.
Patient Experience 3.0: PREVENT THE PROBLEMS
In this scenario, you try to anticipate the problems. You try to identify the areas the trouble is likely to come from and solve the problems before it gets out of control.
You try and keep an eye on how things unfold. You are on the lookout for any sign or signal of a problem that might arise and nip it in the bud. Before your patients complain and employees suffer, you deal with the situation in advance and prevent the problems.
This is cumbersome for you because you are constantly thinking about what can go wrong or what if it goes wrong. So you see problems everywhere and you are not sure where they might arise.
You are somehow able to see that your employees are not motivated enough and disengaged. You are able to see that if it continues that their performance will decline and the growth of your practice will be adversely affected. So you enroll them in Teamspire to help them remain constantly motivated and engaged.
In all, you are trying hard all the time to anticipate the problems and see how you can address the situation in advance to avoid any unpleasant consequences.
Patient Experience 4.0: CREATE POSITIVE EXPERIENCES
So far the other types of patient experience are reactive; each above-mentioned patient experience responds to the problem or situation.
However, this particular patient experience is all about creativity; it aims at creating a series of positive experiences that lead to higher patient satisfaction.
It's not just about any part of the process; it's about every part of the process- from start to finish. From the moment, the patient calls up to seek an appointment to the moment the patient steps into the clinic, to the moment he/she sits in the waiting area, to the moment he/she gets to see the dermatologist and then the call/SMS for follow-up visit; every part has to be a positive experience that makes the patient feels good about the whole thing.
This type of patient experience elevates the patient experience above average and the patient is way more likely to remember it and recommend it to others.
Patient Experience 5.0: CREATE SUPERIOR EXPERIENCES
This one takes a lot of effort!
Patients anyway keep comparing the systems and processes of different clinics. They would talk about how a particular clinic has a very good staff or their system of booking an appointment is quite good etc.
In such a comparative, competitive scenario, it would not be possible to create superior experience if any one part is working smoothly and others aren't. In other words, you can create superior experience only if your clinic works like a closely knit unit. Teamwork and collaboration between departments and units will need to be at its best if you want to create a superior experience that is obviously better than others.
It means that the patient will be pleasantly surprised at every stage of the process. How your employees answer the call of a patient will delight the patient so much that he/she will be drawn to the clinic thinking that if the clinic has such good and pleasant staff, the clinic would be truly good. The care and concern that you will display for the patient will sweep him/her off their feet.
Creating superior experience requires superior efforts of team work, collaboration and seamless functioning of the clinic.
Patient Experience 6.0: CREATE GENUINE EXCITEMENT
This is the highest possible level where your patients don't experience a dull moment ever!
From the moment they get in contact with you and your staff, they feel genuine excitement every time they visit you.
To create such genuine excitement for your patients is a tall order; you cannot get complacent. You need to constantly push the limits of creativity in terms of how patients can be made more comfortable.
You need to continuously worry about the minutest aspects of patient experience and establish systems in such a way that they get delighted the moment they visit your clinic. It's not enough; they should be delighted in different ways every time they visit. You need to keep reinventing the patient experience so that the excitement you create in the first visit does not die down.
You need to target every milestone and every season to provide some fabulous experience that evokes the spirit of festivity and warmth. Your patients should not feel that they are visiting a clinic but a space for celebration.
Your employees need to strive to make every transaction with the patient an experience filled with genuine excitement. Such genuine excitement is not possible without the element of surprise, the resultant joy and the positive vibes all rolled into one!
Conclusion
Patient experience is the basis of patient satisfaction and patient loyalty!
If you want first-rate patient satisfaction, you must provide first-rate patient experience. Many dermatologists may set higher goals in terms of outcomes but fall short of providing the kind of patient experience which is required.
Therefore, rather than focusing on the end result in terms of patient loyalty, it would be advisable to focus on patient experience. The more you work on patient experience and improve it, the more you will see an improvement in patient satisfaction and loyalty.
You will also need to see how patient experience is a composite construct, made of many parts. It's not merely based on their dealings with you alone. The patient experience is based on all the parts of the process and therefore the way you orient your staff, the way you develop the work culture, the way you provide leadership will play a vital role in the way you shape the patient experience.
If you want to differentiate your clinic from the rest, invest heavily into patient experience and you will reap mind-blowing rewards! You can use these different levels to measure and eventually surpass each level to reach the level of genuine excitement for your patient as well as yourself!
Parting Thoughts:
Did you like the blog?
Tell us all about the part that you liked the most; your feedback and comments are valuable to us!
How do you improve the patient experience at your clinic? Have you already implemented some of the ideas mentioned in the blog? Well, do share your case studies with us!
If you have any suggestions regarding blog topics, do send it across. We would love to explore these topics!